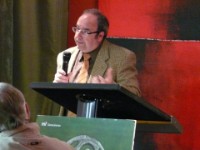 --Routes Andalusia. In 1988, I coordinated a team record for a production company to make a documentary as a writer, entitled "Routes Andalusia" which, Thesaurus TV by the Monte Carlo Film Festival (February 1990), received the First Documentary Video Award. Then, the thirteen chapt28 minutes duration, were issued on numerous occasions by the South Channel, Andalusia.
--Matarraña Magic. In the spring of 2003 he was scientific director of the First National Congress "Matarraña Mágico", which took place at the castle of Valderrobres, and visited different places of that region esoteric Teruel, among the speakers, writers and specialists as Javier Sierra, Sebastià d'Arbó, Fernando Sánchez Dragó, Emilio Ruiz Barrachina, etc.
--Jewish Catalunya. In September 2005, at the initiative of the cultural entity "Sant Galderic", Barcelona, I coordinated a conference on Jewish Catalonia, in the cloister and inner rooms of the monastery of San Jerónimo de la Murtra (founded 1416), Badalona (Barcelona), with projection of a hundred slides.
--Estel·la Iberian. In April 2006, the Hon. City of Santa Perpètua de Mogoda (Barcelona), I made a formal recognotion for my work and literary journalist, the award, a replica of the "Estela Ibérica", handed it to me in the Plenary Hall of the sald corporation, Ms. Mayor, Isabel García Ripoll.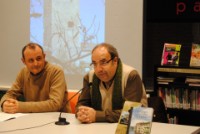 --Time to Circle. In May 2007, I coordinated in Madrid a group of specialists on medieval Spain, was invited by the TERTULIA TIME to talk about the Templars in the audience, Juan García Atienza, Javier Sierra. Programming to be broadcast to more than 250 TV channels from Spain and Latin America.
--Paradores. In late June 2008, I coordinated a team of producer "CAPA", Paris, to record a program on the Paradores of Spain located on the Cantabrian coast, from Hondarribia (Guipúzcoa) to Santiago de Compostela (Galicia) including the Hostal de San Marcos (León). Program that would be issued two months later by the French TV Channel 3, and followed by more than 7 million viewers in the Francophone world.
--Food Iberians. In March 2009, coordinated the "I Iberian Food Hall" in Monte Carlo, making the presentation of a total twenty-five production companies and winemaking Spanish cuisine in the capital of the Principality of Monaco.
--Cathar Route. In the summer of 2009 at the initiative of the Library Serret, Valderrobres and socio-cultural entity "Peña del Corb" Fuentespalda (Teruel), coordinated the "Cathar Route Matarraña" tour facilitated the discovery of interesting medieval sites were related to the Cathar perfect in that region.
--Terrorific prisons. In autumn 2009 I coordinated a production team of "Fourth Millenium" by the Aragonese region of Matarraña to record a program entitled: "Prisons Matarraña of terror".
--Traditional bakery. In March 2011 I was invited to the study of TVE Sant Cugat del Vallès (Barcelona), the program "For all the 2" to participate in a national debate on the traditional pastries. Emission was followed by about 3 millions wiewers.
--How Celtic people cured. How Celtic people cured. Interview made by Diana Rivadeneira, on April 5th 2014, from a Montevideo (Uruguay) radio station, on live for whole spanish speaking world, about Celtic civilization, and recorded with the voice of Javier Viñas, IN THE PROGRAM: "My voive is your voice", and posted on Facebook and Youtube:
https://www.youtube.com/watch?v=txmt0ca4lhc&feature=youtu.be